Time Management
The first interactive online course based on an international methodology with a guarantee of achieving the results desired
About the Course
The Time Management course helps students to make each day full and content-rich, quickly achieve both short-term and long-term goals, and live a rich life. You will learn how to make a significant profit without having to overexert yourself.
This course will teach you to identify bad habits and transform them into useful ones in order to achieve significant results in the desired field, to put things in order and to begin to better understand youself.
Features of the new "Time Management" course
This is the first online course designed according to the concept of "useful entertainment". Game scenarios will help you understand, love and learn how to effectively use time management tools.
Clear and interesting game cases with guides. Now the learning process has become not only useful, but also fascinating.
Thanks to its structured and succinct delivery, completing the course will not require huge investments of time. You will be able to learn many effective approaches and receive application instructions to instantly introduce these approaches into your professional and personal life and get the most out of them on the very same day.
Course Syllabus
Master 4 of the 20 SHL competencies. SHL competencies are the gold standard in the business world. You can choose between the best international employers and your own business. Or just put things in order in your personal life.
Unlike money, your time is an irreplaceable resource. It is necessary to use every day of life wisely in order to get the maximum benefits and avoid useless pastimes, as well as to complete important tasks as effectively as possible. To do this, you must monitor each of your months, weeks and days. We will teach you how to do this.
Many people fall into the following trap: not realising what exactly they need from life and not understanding what kind of opportunities should be used and which ones should not be, many people simply follow their short-term impulses. The Wheel of Life Balance and the Priority Matrix are tools that will help you get exactly what you need out of life.
Where should the comma be placed? 85 % of managers mistakenly believe that there is no one to delegate tasks to. As a result, they delegate tasks only in extreme cases and inefficiently spend their time and company resources. The Scale of Consequences and Delegation Squares will help you overcome barriers and answer the following questions: To whom? How? What should be delegated?
If an author writes one page a day, he/she will write a book within a year. If an executive uses the SMART and the Weekly Timing tools, he/she will be able to achieve much more in a year than other executives in a few years.
What you will receive after completing the course
2–3.5 hours of extra time per day
Personal self-management tools that will always be at your fingertips
Clear and specific goals and priorities
Enhanced motivation as well as the ability to deal with unpleasant tasks and sinks of time and also to organise recreation reasonably
You will be able to effectively distribute your workload, avoid burnout syndrome and learn to relax
You will be able to establish a balance between your professional and personal life, as well as to find time for everything you want!
By taking your time under control, you will achieve balance in your life, and during one month of conscious time management you will reach more than during a year of unconscious efforts.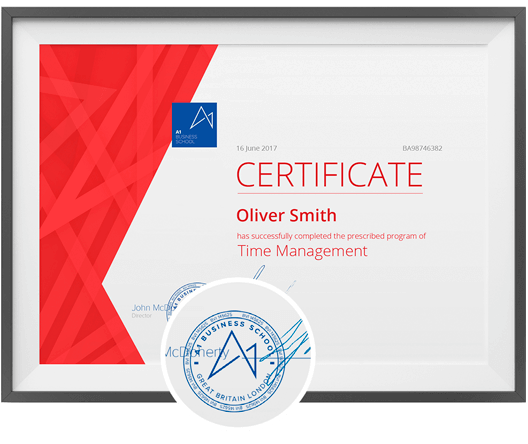 Certificate award upon completion of the course
We will provide you with an official Business School certificate as a confirmation of your competencies
Format of Training
Distance-learning format
Online training is available at any time and in any place. You only need an Internet connection.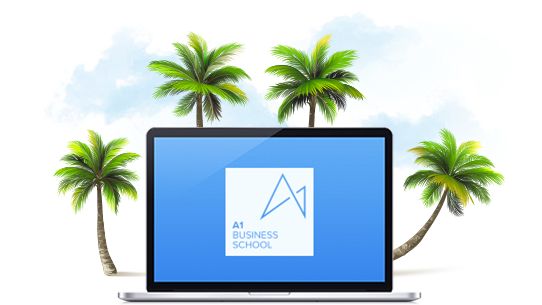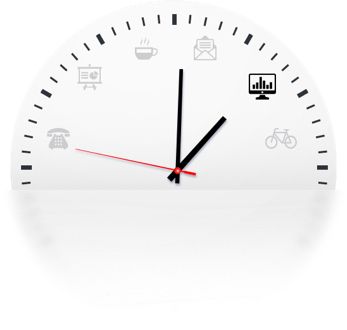 Theory in condensed form
We offer you global experience and best practices in the form of infographics and in a video format that is easy to understand.
Tools
During the training, you will learn to use the tools and techniques that will allow you to put your affairs in order and to master the art of time management in a short time.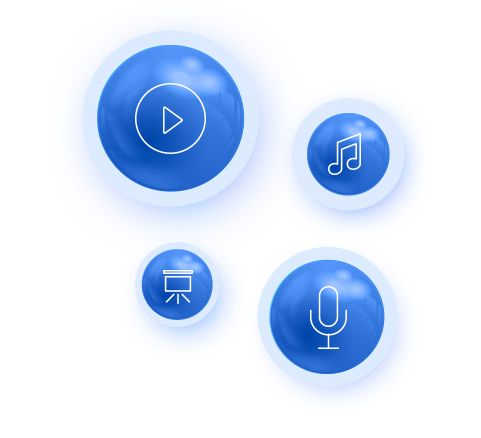 Do not miss the opportunity to get training at an incredibly low price!
x
Thank you!
Our manager will contact you